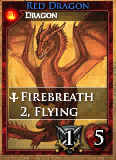 Cards with
Flying
cannot be damaged by normal attacks without archery or flying, but ability-based damage is not affected.
Archery
ability can deal double damage to the flying units. Flying status can be disabled by spell
Ground
,
Windstorm
and
remove flying
abilities.
Ring of Flight
gives flying abilities to equipped unit, and and
Levitate
gives one turn flying ability for all allies in play. If multiple flying properties are present on an unit, they will not stack and so archery still deals double damage to a unit with two flying abilities.
List of flying
Edit