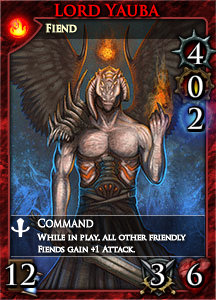 Command
gives
Attack Plus
to all other allied units of the specific type. The effect will stay until the card with command ability is removed from the
play
.
A Command ability has two parameters, namely card specification and magnitude.
Card specification indicates which type of cards are affected by the ability. If no parameter is present (as shown on Lord Yauba) it points to the same card type of troops and heroes as the commander. The parameter All indicates all units regardless of card specifications, can be benefited from the ability.
A list of Card Specification parameter:
The magnitude of the command, is similar to other skills. In Facebook without the magnitude or Warstorm.com with magnitude 1, it means command ability can give 1 more attack to other cards. A command 2 gives +2 attack and command 3 gives +3 attack.
Currently the only card for command 2 is Grux the Warlord; and the only card for command 3 is Princess Katrina.